Skip to Content
Smart Home Products in Sacramento
Isn't it about time your home took care of you? Do you want your home to keep an eye out and make sure your living room is the perfect temperature when you arrive? Beutler Air Conditioning & Plumbing in Sacramento, CA, can do this and so much more.
We Offer a Range of Devices
As a Nest Pro Elite installation partner, we can turn your residence into a smart home by installing products such as Nest Cams, Nest Protect, and Nest thermostats. Also, we can install Google Home and Google Wifi to address those wifi dead spots in your home. If you want to save money, keep your property protected when you're not home, or change the temperature via a voice command, then contact our team so we can get to work.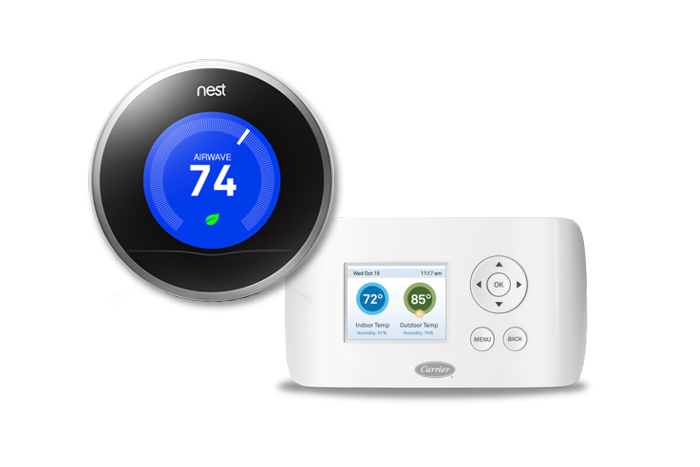 Nest Cams, Nest Thermostat, and Nest Protect
Everyone wants to live in a thoughtful home, one that makes sure your needs and preferences are met. Any of these state-of-the-art products are sure to enhance your residence and your quality of life.
Nest Cams help keep your home secure 24 hours a day, seven days a week by allowing you to monitor what's happening inside and outside the property when you aren't there. Other features include night vision, cloud storage, and live streaming in high-definition 1080p.
If you want to save money heating and cooling your property, turn to the Nest Learning Thermostat. It uses an intuitive design and advanced algorithms to learn from you to determine how hot or cold your home should be to keep you comfortable.
The innovative Nest Protect smoke and CO (carbon monoxide) alarm, alerts you when there is a problem and also explains what needs to be fixed to correct the problem. It also detects and notifies you of smoke and carbon monoxide even if you aren't home.
Google Home and Google Wifi
When you get Google Home, it's like getting a personal assistant. Google Home uses Google Assistant to help you schedule appointments, control your home, and get answers from search results. Google Home works by syncing with your other Google accounts and smart home products. Since it can distinguish between your voice and others in your home, you can check email, change the thermostat to your personal preference, or turn on your music playlists.
Google Wifi replaces your wireless router and extends your wireless network to ensure seamless connectivity throughout your home. It's also smart enough to route bandwidth to the devices that need it, so everyone in your home enjoys a great wireless experience.
Trusted Smart Home Technology Installers
When you contact Beutler Air Conditioning & Plumbing in Sacramento, CA, know that the staff handling your job will be courteous, professional, and eager to work. We arrive when promised and we do the job right the first time. Contact us to enjoy voice-controlled comfort, and turn your home into a smart home.